An MCESD meeting on the COVID situation called by the Prime Minister following calls by social partners forming part of MCESD, lasted some six hours.
In his opening address to social partners and members of the press, PM Robert Abela, flanked by new MCESD chairperson James Pearsall, Deputy Prime Minister Chris Fearne, Minister Carmelo Abela, Minister Edward Sicluna and Superintendent of Public Health Charmaine Gauci, highlighted that this is a Government that listens and although a decision would have been taken, it doesn't mean a decision is set in stone and cannot be altered.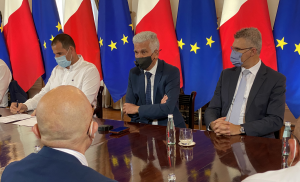 He said that he wished for two principles: the protection of people's lives and livelihoods.
The PM said that the new measures to be introduced following the six-hour long meeting, strike a balance between health and people's quality of life. He said that it is vital that we don't go to extremes.
https://mcesd.org.mt/wp-content/uploads/2020/08/low-res-PM.png
672
1155
duncan
https://mcesd.org.mt/wp-content/uploads/2022/10/NEW-MSCD-LOGO-merged-300x212.png
duncan
2020-08-07 07:06:43
2020-08-07 07:06:43
Six-hour MCESD meeting with Prime Minister