Finance Minister Clyde Caruana and Parliamentary secretary for Social Dialogue Andy Ellul met with the social partners to discuss the National Reform Programme 2022.
In this report all European members report all the measures that are being implemented and being planned to be implemented to increase employment and economic growth along with plans to prevent and correct macro-economic imbalances. This document also outlines how member states plan to abide by EU Fiscal regulations and also report on the progress made on the recommendations outlined to member countries.
Minster Caruana said that this reform programme outlines more reductions in emissions, and also how our economy must be reformed to address this in view of the changing world due to the conflict between Russia and Ukraine. However the European Union kept all environmental targets the same and so more effort is needed to reach these targets.
Minister Caruana also spoke about inflation and said that the government will continue doing whatever is possible so that our economy is safeguarded.
Parliamentary Secretary Andy Ellul, in his first address to the MCESD, recognized all the important work that is being carried out by MCESD and said that his aim is for social dialogue to be strengthened and all social partners will be part of all the decisions that will be taken in the various economic sectors.
Dr. Ellul urged all social partners and the civil Society representatives to take this opportunity so that this consultation programme for the National Reform 2022, the future is planned and the country continues to progress and that the government will be, together will all social partners, paving the future for our country.
The parliamentary Secretary concluded by saying  that the common goal should be one that our country and our people prosper.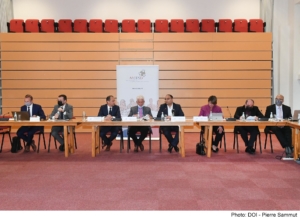 https://mcesd.org.mt/wp-content/uploads/2022/04/PER_2991-copy.jpg
1402
2048
Ray Bartolo
https://mcesd.org.mt/wp-content/uploads/2022/10/NEW-MSCD-LOGO-merged-300x212.png
Ray Bartolo
2022-04-12 11:04:40
2022-04-12 11:04:40
Hon Clyde Caruana and Parliamentary Secretary for Social Dialogue Andy Ellul discuss the National Reform Programme with social partners