During a MCESD meeting held today on the Digital Economy, Minister Carmelo Abela emphasised on MCESD being more proactive and relevant. A discussion also ensued on how Malta could strengthen its position as a place where new technological solutions are tested before entering the market.
Economist Kirsten Cutajar Miller, and Mr Kearon Bruno delivered a presentation on a sustainable and digital economy.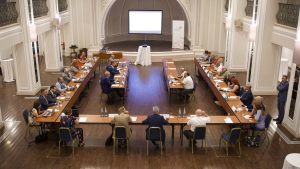 In his address to social partners forming part of MCESD, Dr Abela thanked outgoing MCESD chairman John Bencini for his sterling work during his seven-year chairmanship. Mr Bencini will be replaced by Mr James Pearsall at the end of the month.
On his part, Mr Bencini said that during his tenure, all social partners thought about society as a whole and not just the association or organisation they represented, showing a great deal of respect towards each other.
WATCH: Comments by Minister Abela on the Digital Economy
Comments by Mr John Bencini on his seven years as chairman of MCESD
Full PR – Maltese version below
https://mcesd.org.mt/wp-content/uploads/2020/07/pr201281a.jpg
724
1287
duncan
https://mcesd.org.mt/wp-content/uploads/2022/10/NEW-MSCD-LOGO-merged-300x212.png
duncan
2020-07-06 17:00:06
2020-07-06 17:08:09
MCESD meeting on digital economy held; Minister thanks outgoing chairman John Bencini