* MCESD participates in workshops on Covid-19 impact on business owners and employees
* Buddy system encouraged among workers working remotely
* Mental Health problems affect some 84 million people in Europe
* MTA conducted up to 1,200 checks daily at height of pandemic
* Don't hide behind the screen but interact online, work-from-home employees encouraged
* Mental support vital for workers
Today, MCESD media officer Duncan Barry participated in an online annual 2020 conference organised by Richmond Foundation – Malta. The conference explored the mental health impact of social and economic measures on different groups in Malta. A number of speakers addressed the virtual conference, including
World Health Organisation (WHO)
European Regional Director Dr Chan Chisholm, former AFM Colonel David Mifsud, who is Director at
Malta Tourism Authority
who oversees the enforcement directorate, among other keynote speakers.
The workshops MCESD participated in focused on the Covid-19 impact on business owners and employees.
The importance of support at work was highlighted during the conference as anxieties and fears at the workplace which are heightened by the pandemic are reduced drastically through support. Online interaction when working from home is also vital. "We shouldn't hide behind the black screen but show ourselves and interact when working from home," Valerie Cabay, Executive Coach and Intercultural Management, advises.
* 1770 helpline calls at
Richmond Foundation – Malta
increased drastically in April at initiation stage of pandemic in Malta
* Mental Health problems affect some 84 million people in Europe
* One in 5 youths across Europe affected
* MTA conducted up to 1,200 checks/inspections per day at height of pandemic; enforcement teams faced verbal abuse from some members of the public and some operators when establishments started to open again; in the midst of Covid, fear and anxiety affected MTA enforcement teams as they were telling people to stay inside while they had to work on the outside to ensure people and company owners were adhering to strict protocols.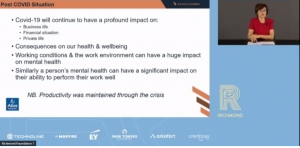 https://mcesd.org.mt/wp-content/uploads/2020/10/screenshot.png
633
1383
duncan
https://mcesd.org.mt/wp-content/uploads/2022/10/NEW-MSCD-LOGO-merged-300x212.png
duncan
2020-10-23 09:14:53
2020-10-23 09:28:31
Covid-19: MCESD participates in Richmond online conference on mental health impact